Developing and Monitoring National Anti-Trafficking Response – Practitioner's Guide
MARRI Bulletin 6, June 2021
Designing Anti-trafficking Response
MARRI Diplomatic Briefing, April 2021
Once again, the traditional MARRI Friends Meeting had to be canceled, due to ongoing Covid19 pandemic. To preserve the tradition and keep you informed, MARRI Regional Centre presented the annual results and future plans of MARRI in the MARRI Diplomatic Briefing Brochure.
Deep gratitude to the Government of the Federal Republic of Germany for the generous and continuous support to MARRI over the years.
Highlights of the strategic partnership between German government and MARRI, the joint achievements in strengthening the human resource and institutional capacities of the Initiative and the benefits of this long and fruitful collaboration for the MARRI region in dealing with the issues of migration.
MARRI Bulletin, December 2020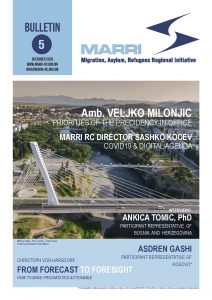 As COVID-19 continues to devastate around the world, we at the MARRI Regional Centre continue to alter its modus operandi to find a way to fulfil its mandate despite the drawbacks caused by the preventive restrictions.
Gender Mainstreaming in Migration, by Dr. Ankica Tomic and Ms. Milica Trpevska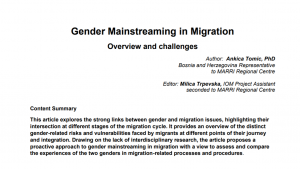 Power relations, gender norms and unequal rights shape the migration choices and experiences of women and men. Gender therefore needs to be considered in all aspects when it comes to migration and forced displacement.
To shed some light on the topic, Swiss Agency for Development and Cooperation (SDC) Network on Migration and Gender called for contributions of articles and resources to be published in the online dossier on migration and gender.
On behalf of MARRI RC, Dr. Ankica Tomic and Ms. Milica Trpevska contributed the article Gender Mainstreaming in Migration.
MARRI Bulletin, June 2020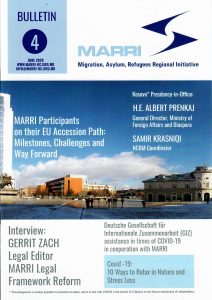 Dear colleagues,
My foreword to the fourth edition of our Bulletin is dedicated to all those who enable our work from home in times of pandemic.
I start with our dear families. When the video-conferences start, family members take babies to the park, partners turn down web pages, and take children outdoor, mobile phones are switched off, games stopped, doors and windows get closed to keep the traffic noise outside, dogs receive a bone to chew on, cats a bowl of milk – just to keep them all quiet. Because our video-conferences start.
MARRI Diplomatic Briefing, April 2020
Every first week of April, MARRI RC organizes MARRI Friends Meeting – a traditional presentation of annual results and future plans of MARRI to the Diplomatic Corps, MARRI's partners, donors, representatives of governmental institutions and civil society sector in North Macedonia. The event also provides opportunity for the stakeholders to discuss the possibilities for joint efforts in the area of migration management in the Western Balkans.
Unfortunately, due to the COVID-19 epidemic, the MARRI Friends Meeting 2020 was canceled and the MARRI Diplomatic Briefing was published instead.