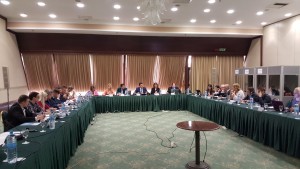 The training was held on 8-9 April 2016 with aim to improve the ability of National Governments to address challenges in implementing national policies and legislation by working toward a comprehensive picture of threats posed by the areas of asylum and mixed migration flows, to be presented with a future regional strategic analytical product.
National delegations from Albania, Bosnia and Herzegovina, Bulgaria, Macedonia, Moldova, Montenegro, Kosovo*, Romania and Serbia presented relevant data and statistics and exchanged information about the latest developments in the area of migration and asylum. Representatives of DCAF and FRONTEX took active participation at the training by presenting the activities undertaken within their organizations.
Dragan Pejanovic, Secretary General of the Ministry of Interior of Montenegro, on behalf of the Presidency-in- Office opened the First Training. He stated that individually MARRI Participants have achieved progress in the fields of migration, asylum and border management, but still there is room for intensifying regional cooperation. The key goal is the necessity for enhanced coordination with other regional initiatives, international organizations and the European Commission, which would absolutely contribute to better identification of joint regional challenges and requirements, stated Pejanovic.
Tamara Mugosa, MARRI RC Director, by presenting the Project BORDAIRPOL II, announced that in the envisaged 30 months it is planned for MARRI to organize five strategic meetings designated for the Heads of the Border Police Sectors, eight tailored made trainings for the police officers at the operational level as well as maintenance of the existing secured platform for data exchange among beneficiaries. Director underlined that the aim of the Project was to further strengthen the border authorities in SEE and support the European integration process of the Region. "Established partnership with DCAF and FRONTEX in the project activities implementation represents its added value", concluded Mugosa.
Participants agreed that regional cooperation and creation of efficient regional mechanisms for information exchange and regional analysis should be encouraged, which would provide high quality analysis as basis for well- defined policies. It has been also recommended that additional efforts of the regional structures should be invested in facilitation the process of harmonizing national legislation with the EU acquis.
*This designation is without prejudice to positions on status, and is in line with UNSC 1244 and the ICJ Opinion on the Kosovo declaration of independence
BORDAIRPOL II First Joint Training in Skopje, Macedonia