MARRI's First Annual Meeting BORDAIRPOL II and a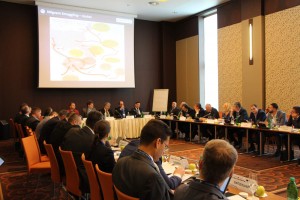 d hoc Meeting on New Developments on the SEE Migratory Route and Joint Response to Newly Occurring Security Challenges, co-organised by the Police Cooperation Convention for Southeast Europe (PCC SEE) Secretariat under the auspices of the Moldovan Chairmanship and the DCAF Border Security Programme was held from 20-22 April 2016 in Portorož, Slovenia
Annual Meeting is the first strategic meeting organized under Project BORDAIRPOL II financed by Swiss State Secretariat for Migration. Beneficiaries of the Project Albania, Bosnia and Herzegovina, Bulgaria, Croatia, Macedonia, Montenegro, Kosovo, Moldova, Serbia and Romania discussed about identification of challenges and presented existing capacities of the Border Police Services in the SEE. Participants agreed that all countries are facing difficulties to cope with current migration crisis at such extraordinary circumstances and assessed that common denominators should be identified in order to focus joint efforts in finding solutions to present challenges.
It has also been concluded that specific, effective and need based regional approach shall be the key component for capacity building of border police services. National representatives strongly supported projects implemented by MARRI RC in enhancing overall border police capacities and encouraged further cooperation with IOM, PCC SEE, DCAF, OSCE, NI CO.
MARRI RC Director Ambassador Tamara Mugosa in the welcome address stressed that engagement in strengthening regional cooperation was a crucial issue for the European perspective of the Western Balkans.  In our efforts to upgrade regional links, particular attention has been given to the fact that all MARRI Participants are candidates or potential candidates for the membership in the EU. Thus, all our activities are designed to accelerate integration process, by support to our national institutions to meet EU standards, emphasized Mugosa. She has also said that the mission of MARRI has become important more than ever, in the context of unprecedented migration crisis that affects strongly our countries and all Europe. We are aware of the fact that migration flows are far from over and that we need holistic and long term approach in order to tackle its various aspects.
National Representative of Montenegro to MARRI RC, Selma Mehovic presented planned activities under BORDAIRPOL II for the period of next 25 months, pointing out that MARRI will carry out 4 strategic meetings and 8 joint trainings aiming at bringing existing regional mechanisms into compliance with EU acquits, standards and best practices. The overall objective is to further enhance administrative and operational capacities of the Southeast European Countries' border police and increase operational coordination in their efforts to counteract irregular migration and to fight against terrorism and crime, stressed Mehovic.
Biljana Kocareva, Project Officer presented results of the project "Improvement of the Procedures for Establishing Identity of Irregular Migrants in the MARRI Region", financed by United Kingdom that MARRI RC successfully implemented. Kocareva said that the overall objective was to create a Database that would enable rational use of interpretation capacities by creating  database of interpreters for rare languages but also to enhance the capacity of the national institutions of MARRI Participants for establishing personal identity of irregular migrants which is a prerequisite for effective migration management.
During Ad hoc Meeting on New Developments on the SEE Migratory Route and Joint Response to Newly Occurring Security Challenges, PCC SEE representatives of the Border Security Services discussed about occurring security challenges in mid-2016 in border policing as well as expected changes of migratory movements and actions to be taken.
Two meetings organized back to back is an excellent example of cooperation and synergy established with DCAF Ljubljana and PCC SEE Secretariat.
BORDAIRPOL II First Annual Meeting in Portorož, Slovenia