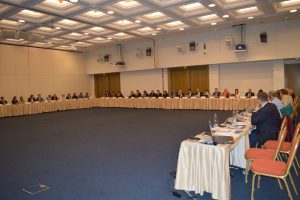 Budva – The Heads of Border Police, Asylum, Readmission Departments and THB National Coordinators of MARRI Participants,  their counterparts from Bulgaria, Moldova and Romania as well as representatives of many international partners attended the Fifth Annual Meeting "Joint Meeting of MARRI Networks", organized by MARRI RC in the framework of the BORDAIRPOL II project.
With an objective to closely examine the core work of the four MARRI networks and to provide concrete proposals/ideas for using MARRI capacities in conducting future activities, the meeting offered unique opportunity for more than 50 professionals dealing with the migration management to gather in one place and discuss the regional priorities.
In his welcoming remarks, MARRI Regional Centre Director Sashko Kocev stressed that the efforts invested to date will continue to improve the regional response to joint challenges but further efforts are needed in the area of readmission, especially in terms of implementation of the existing Readmission Agreements and signing new ones with countries of origin of irregular migrants.
Through a group work based on MARRI Strategy 2018-2020, the participating national and international experts identified the areas of required intervention and agreed to intensify and extend their professional networks. They recognized the need for further support from the EU, international organizations and friendly European governments emphasizing the importance of a closer cooperation between the Western Balkans and the EU.
The representatives from Swiss State Secretariat for Migration (SEM), Frontex, EASO, ICMPD, IOM, UNHCR, EU Delegation, INTERPOL, GIZ and PCC SEE positively assessed the past collaboration with MARRI and unanimously supported the anticipated joint activities in the framework of each network but also in areas of common interest for all networks such as the labor migration.
8 November 2018 – BORDAIRPOL Fifth Annual Meeting: Joint Meeting of MARRI Networks