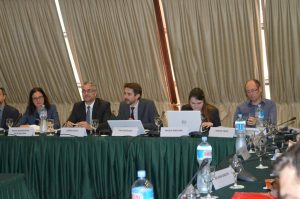 Skopje – Under the auspices of the EU-funded project 'Regional Support to Protection-Sensitive Migration Management in the Western Balkans and Turkey', MARRI RC and IOM organised a Presentation and Validation Workshop for a new Regional Remote Interpretation Service for Western Balkans migration management authorities. The Workshop gathered Asylum and ICT department representatives from all six MARRI Participants as well as MARRI RC team members to discuss the operationalization of the MARRI Regional Remote Interpretation Service, which is to be launched in January 2019.
In his opening remarks, MARRI RC Director Sashko Kocev stressed that this remote interpretation solution will complement MARRI Participants' domestic capacities in accessing reliable interpretation services for extra-regional languages. He added that MARRI RC would take up full responsibility for the management of the Regional Remote Interpretation Service by June 2019.
The main advancement in this regard has been made in February 2018, with the signature of the "Protocol on the Use of Joint Interpretation Pool in the Area of Migration and Asylum" by MARRI Participant Interior/Security Ministries. The Protocol provides fundamental legal basis for the set-up of a pool of extra-regional language interpreters, as well as for tailored remote interpretation services. Twenty-four extra-regional language interpreters– who are able to interpret from and to Western Balkans languages – have been asked to join the MARRI Pool.
The Workshop participants welcomed the use of the web-based interpretation-scheduling platform and agreed on a timeline to resolve all outstanding practical issues to facilitate the operationalization of the Regional Remote Interpretation Service by the beginning of next year.
30-31 October 2018 – MARRI Regional Remote Interpretation Service Presentation and Validation Workshop