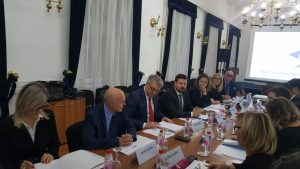 Sarajevo – MARRI RC under the Presidency of Bosnia and Herzegovina and with the support of GIZ, organized the Second meeting of Ad hoc Working Group for finalization of key legal documents related to internal organization of MARRI. The meeting that takes place on 22-23 November 2018 at the Ministry of Foreign Affairs of Bosnia and Herzegovina in Sarajevo, is attended by MARRI Committee Members, National Coordinators, MARRI Participants Representatives and Regional Centre experts and staff.
The session is a follow-up on the First meeting of the Ad hoc Working Group organized in April 2018 in Skopje and it is based on the Conclusions from MARRI Committee Meeting held in June 2017 in Belgrade, when the Working Group was established.
The agenda of the Second Working Group meeting foresees presentation and discussion of some newly proposed as well as revised MARRI legal documents that were prepared in accordance to the above-mentioned Conclusions, including MARRI Charter, MARRI RC Statute, MARRI RC Office Rules, MARRI RC Code of Ethics and the Financial Rules & Procedures.
22-23 November 2018 – Workshop on finalization of organizational documents for MARRI RC