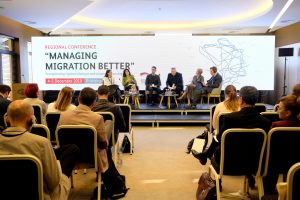 Pristina – The Reginal Conference "Managing Migration Better" crowned the implementation of "Strengthening regional migration governance" project, commissioned by the German Federal Ministry for Economic Cooperation and Development (BMZ) and implemented by Gesellschaft für Internationale Zusammenarbeit (GIZ) in cooperation with MARRI.
With an objective to create common understanding of regional challenges in migration governance and provide concrete proposals/ideas for using MARRI capacities in conducting future activities, the Conference offered unique opportunity for more than 100 professionals dealing with the migration management to gather in one place and discuss the regional priorities. Apart from MARRI Participants' delegations, the conference was attended by representatives of civil society organizations, international organizations and academia.
On behalf of Presidency-in-Office of MARRI, the event was opened by the Deputy Interior Minister of Kosovo* Mr. Izmi Zeka. He stressed that the Western Balkan has strategic importance for the security of Europe and the regional cooperation is a key principle in addressing the challenges in the migration management, adding that the most vital part in this cooperation are the practitioners. The welcoming addresses also delivered H.E. Christian Heldt, the Ambassador of the Federal Republic of Germany to Kosovo*, the General Director of the Ministry of Foreign Affairs of Kosovo* Mr. Albert Prenkaj and MARRI RC Director Sashko Kocev.
In his remarks as a keynote speaker, Mr. András Oláh, European Commission, DG NEAR, said that no other region in the world has transformed the approach to the migration management as substantially as the Western Balkans and although the region should be proud of the achievements, the region and the EU have to acknowledge the challenges such as overstretched administrations that remain incapacitated due to limited budgets and lack of human resources and equipment, in addition to equally important lack of consolidated regional response. He concluded that there is no disagreement that the regional cooperation is not only necessary but essential for achieving stability and prosperity, and strengthening the cooperation within the region and with the EU, is the best way forward.
The working part of the Regional Conference included presentation of the outcomes of the previous project activities, panel discussions regarding the regional needs and priorities in each thematic area in MARRI's mandate and presentation of five MARRI products developed in cooperation with MARRI's strategic partners IOM and GIZ. In addition, new ideas for future MARRI products were also presented and discussed.
*This designation is without prejudice to positions on status, and is in line with UNSC 1244 and the ICJ Opinion on the Kosovo declaration of independence.
4-5 December 2019 – Regional Conference "Managing Migration Better"