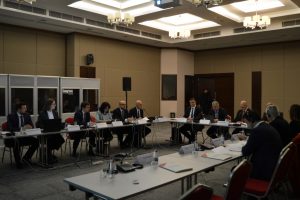 Podgorica – The Steering Group of the Regional Project on Preventing and combatting trafficking in human beings in the Western Balkans (PaCT) held its first session on 27 November 2019 in Podgorica.
Composed of Coordinators for fight against Trafficking in Human Beings of MARRI Participants, the Steering Group's role is to identify and discuss the crucial points/challenges, to follow the progress and monitor the implementation of the project, and to ensure implementation of the Steering Group's decisions by all relevant project stakeholders.
The regional PaCT project officially started in the second half of 2019 for the period of 3,5 years, until the end of 2022. The total value of the project is 5 mil euros provided by the German Government and it will be implemented in all MARRI Participants through MARRI as Strategic partner of the project.
27 November 2019 – 1st Steering Group meeting of the Regional Project on Preventing and Combatting Trafficking in Human Beings in the Western Balkans (PaCT)