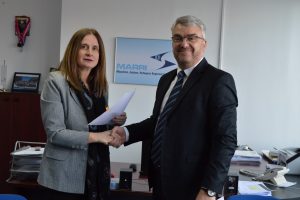 Skopje – IOM Skopje Head of Office Ms Sonja Bozinovska Petrushevska and MARRI Regional Centre Director Mr Sashko Kocev signed a Donation Agreement for the Regional Migration Data Exchange Platform (WB – MIDEX).
The WB – MIDEX Platform has been developed by IOM, within the EU-funded IPA II project 'Regional Support to Protection-Sensitive Migration Management in the Western Balkans and Turkey'. It has been presented and validated by Western Balkan migration data authorities at three Regional Meetings on Migration Statistics in Belgrade, Skopje and Tirana in 2018 and 2019. The ownership of the Platform has been transferred to MARRI, with initial IOM funding to cover the hosting and maintenance costs for the upcoming two years.
"This Donation Agreement represents support for MARRI RC as a provider of reliable migration-related services. The WB – MIDEX Platform allows the exchange of comprehensive, official and regular migration statistics. Under the auspices of MARRI, WB – MIDEX will contribute to enhanced migration governance and management in the Western Balkans by producing analyses which will facilitate evidence-based policy making and cooperation", said IOM Skopje Head of Office Ms Sonja Bozinovska Petrushevska.
"As strategic partner of IOM, MARRI welcomes the capacity-building interventions under the IPA II regional project which directly address the needs of our Participants. We need comparable migration statistics to be able to point the gaps and tailor our upcoming activities", said MARRI RC Director Mr Sashko Kocev.
The WB – MIDEX Platform is a custom-made software solution for exchanging non-personal migration data through common templates. It has been developed by IOM with a view to ensure both Participant-level alignment and regional harmonisation with Regulation (EC) 862/2007 on Community Statistics on Migration and International Protection. The Platform allows secure data import and has an option for public data viewing and export in different downloadable formats.
WB – MIDEX contains custom indicators used by EU Member States to report to Eurostat at regular intervals. The Platform includes four main data topics (International Migration, International Protection, Enforcement of Immigration Legislation, and Residence Permits), as well as an optional module on Smuggling of Migrants.
The migration data exchange through WB-MIDEX will start in 2020, and MARRI and IOM will jointly produce a Regional Migration Profile on the basis of the available data in 2021.
In order to further support the alignment with Regulation (EC) 862/2007 and facilitate the data exchange through WB-MIDEX, in 2020 IOM will provide technical assistance to the MARRI Participant authorities and support in developing Road Maps on Migration Statistics, which will outline the challenges, activities and timeframe needed for full harmonisation with the relevant acquis. Additionally, to ensure the WB – MIDEX sustainability MARRI will establish a Regional Working Group on Migration Statistics which will include migration data experts from Western Balkan statistical agencies and Interior Ministries, and will guide MARRI's work related to migration statistics.
For any information regarding the WB-MIDEX Platform please contact Ivan Kochovski, IOM's Migration and Asylum Data Expert seconded to MARRI RC at ivan.kochovski@marri-rc.org.mk.
30 December 2019 – IOM – MARRI: Donation Agreement for Regional Migration Data Exchange Platform Signed