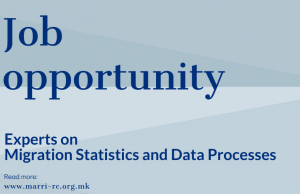 In order to ensure the effective roll-out and use of the WB-MIDEX Platform, IOM hires Participant-level experts to develop Road Maps for Migration Statistics in each of the MARRI Participants.
The WB – MIDEX Platform has been developed by IOM, within the EU-funded IPA II project 'Regional Support to Protection-Sensitive Migration Management in the Western Balkans and Turkey' in order to support migration management authorities of the Western Balkans in aligning their migration data frameworks, procedures and practices with EC Regulation 862/2007, thus enabling a facilitated and streamlined exchange of relevant migration statistics through WB-MIDEX Platform.
On 30 December 2019, the ownership of the Platform has been transferred to MARRI, with initial IOM funding to cover the hosting and maintenance costs for the upcoming two years.
The vacancies have been announced by all IOM Offices in the region, with deadline for applying on 20 January 2020 (31 January 2020 for Bosnia and Herzegovina).
Please see the links below:
ALB:         https://albania.iom.int/job-vacancies
BiH: https://bih.iom.int/cvn-01-01-20-national-expert-migration-statistics-and-data-processes-1-position
KOS:        https://kosovo.iom.int/vacancy
MNE:       http://un.org.me/vacancies-tenders/#1506076047716-9a6709e7-cb7d
NMK:       https://north-macedonia.iom.int/careers
SER:         https://serbia.iom.int/vacancy
Open call – Experts on Migration Statistics and Data Processes