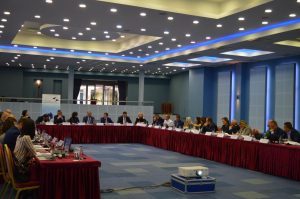 Ohrid – The Heads of Asylum Departments and representatives of Border Police of MARRI Participants discussed the coordinated protection response in line with EU standards and international conventions at the 3-day regional conference, organised by MARRI RC with support of UNHCR.
The conference was the first in a series of UNHCR-supported regional events with an aim to revive the MARRI Heads of Asylum Departments Network as well as to strengthen the cooperation between the asylum and border police authorities.
In her welcoming remarks, the Representative of UNHCR – Skopje, Ms. Monica Sandri stated that in such a turbulent global landscape, no country alone can cope with the contemporary challenges related to mixed and refugee movements. Solidarity, cooperation and coordination are essential to ensure effective protection. MARRI RC has successfully established itself to take up on this role in Western Balkan region, aiming at strengthening international protection systems among all Participants, by linking all stakeholders, creating synergies, and building upon the synchronisation of responses. UNHCR praises and extends  their support to this complex, yet remarkable mission. Ms. Sandri  also welcomed the fruitful cooperation between asylum services and border police officials underlining the central role of the asylum and border authorities, as the primary protection providers, for ensuring that persons in need of international protection have full access to their rights, and have their basic and specific needs addressed. MARRI region has a great opportunity to set the standards for asylum, to meet the needs for protection, to better address present and future challenges and UNHCR is committed to provide support in the joint efforts to uphold the standards and fundamental principles of human rights.
MARRI RC Director Sashko Kocev informed that MARRI and UNHCR Skopje had discussed concrete cooperation with regards to short- and long-term activities. The cooperation will require a legal act that both organisations are willing to sign, in the near future. Acknowledging that the border police work is closely linked to further asylum procedures, he stated that MARRI will keep the same back-to-back concept for the next similar regional events. MARRI's Network of Heads of Asylum Departments has always been in the focus of MARRI's  plans and strategies and the support of UNHCR Skopje will provide the opportunity for future regional exchanges that will facilitate the asylum procedures in line with EU and international standards.
The working sessions of the conference focused on analysing the current state of play with regards to the asylum procedures and border management in the MARRI Participants, and in particular, the registration and profiling of migrants and asylum seekers by the first contact officers; harmonisation of the Participants' legislation with Asylum Procedure Directive 2013/32/EU and Reception Directive 2013/33/EU (Procedures, Guarantees and Alternatives to Detention); new developments related to migration movements & modi operandi for irregular border crossings in the region as well as the intergovernmental cooperation and best practices in the area of Integrated Border Management.
29 – 31 October 2019 – Regional Conference "Enhanced collaboration within Western Balkans in providing international protection and respecting the human rights of refugees"