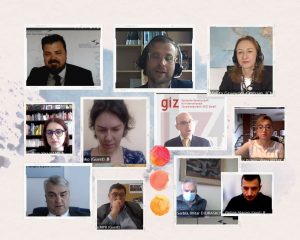 The Practitioner's Guide for Developing Strategies against Trafficking in Human Beings and Action Plans is a product of the regional project for "Preventing and Combatting Trafficking in Human Beings – PaCT", commissioned by the German Federal Ministry for Economic Cooperation and Development (BMZ) and implemented by GIZ and MARRI as strategic partner.
The overall objective of the Practitioner's Guide is supporting THB Coordinators and anti-trafficking stakeholders in the process of development of Strategies and Action Plans for preventing and combatting trafficking in human beings on local, Participant or regional level, as well as monitoring their implementation.
This Guide contains all recommendations that GRETA, US TIP Report and other relevant anti-trafficking organizations have provided in the previous years, and which have been additionally consulted in the process of development of the document.
This event was organized by MARRI RC together with GIZ and ICMPD.
DEVELOPING AND MONITORING NATIONAL ANTI-TRAFFICKING RESPONSE – A PRACTITIONER'S GUIDE
RAZVOJ I PRAĆENJE NACIONALNI ODGOVOR U BORBI PROTIV TRGOVINE LJUDIMA – PRAKTIČNI VODIČ
ZHVILLIMI DHE MONITORIMI I PËRGJIGJES KOMBTARE KUNDËR TRAFIKIMIT – UDHËZIM PËR PRAKTIKUESIT
РАЗВИВАЊЕ И МОНИТОРИРАЊЕ НА НАЦИОНАЛЕН ОДГОВОР ПРОТИВ ТРГОВИЈАТА СО ЛУЃЕ – ВОДИЧ ЗА ПРАКТИЧАРИ
20 May 2021 – Promotion of the ICMPD Practitioner's Guide for Developing Strategies against Trafficking in Human Beings and Action Plans