Budva – In line with the priorities of Montenegro Presidency-in-Office in the area of border management, MARRI Regional Centre organised a meeting for high officials of Border Police in the MARRI Participants to exchange of information about the current state of play regarding the migration flows and share ideas for cooperation in addressing the common challenges at regional level.
Key topics of the discussion were the influence of Covid19 on migration, regulating the safe cross-border movements and required measures for suppression of the forged documents.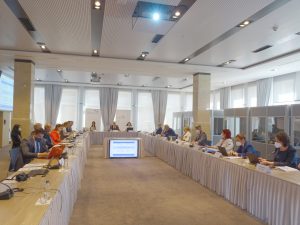 The presentation of the actual capacities and current practices in the MARRI Participants revealed similarities of specific situations, resemblances in trends and challenges that were common for the whole region. Among others, the identification of migrants, abuse of asylum procedures and increased circular migration in addition to the consistent attempts for migration towards Western Europe, were the most frequently reported difficulties.
During the meeting, MARRI Regional Centre presented the regional platform for non-personal data exchange (WB-MIDEX) and MARRI Remote Interpretation Service (RRIS) as instruments that can facilitate the resolution of selected challenges. Additionally, the participants were briefed about the findings of the recently conducted Analysing the influence of Covid19 on migration, a comprehensive insight into the regional picture related to migration management.
The meeting which was organised in a hybrid mode, was concluded with a  fruitful discussion about the possible regional cooperation for suppression of forged PCR tests and the applicability of COVID passports in the Western Balkans.
18 May 2021 – Meeting of the MARRI Border Management Police Network