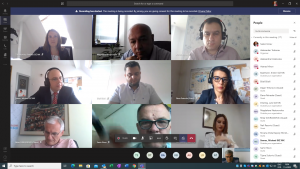 The meeting which was organized virtually through Microsoft Teams platform, was attended by the Coordinators for Fight Against Trafficking in Human Beings in the region and representatives of PaCT project partners GIZ, MARRI and ICMPD.
The main discussions of the meeting were focused on the project progress as well as the activities undertaken in accordance to the previous meeting conclusions, such as Assessment of the THB Strategies in the MARRI Participants, updating the Guidelines for their development, and organizing joint meetings with other THB Networks in the region.
COVID – 19 was recognized as serious challenge in implementation of the project activities. However, it was concluded that all project activities will continue in due manner, practicing online interviews, questionnaires and other tools in line of avoiding direct contact and possible endangerment of any person's health.
The next Steering Group meeting is planned for the end of 2020 and it will be organized in accordance to the recommendations of the World Health Organization and the circumstances at the time with regard to COVID – 19.
The regional PaCT project officially started in the second half of 2019 for the period of 3.5 years. It is commissioned by the German Government and it is implemented in all MARRI Participants through German International Cooperation (GIZ ) and MARRI as a Strategic partner of the project.
11 June 2020 – 2nd Steering Group Meeting of the Regional Project on Preventing and Combatting Trafficking in Human Beings in the Western Balkans (PaCT)