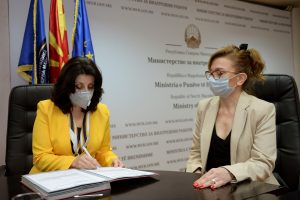 Skopje – Representatives of GIZ North Macedonia and MARRI RC handed over protective equipment and sanitary products in response to COVID-19 to the Office of the Coordinator for Fight Against Trafficking in Human Beings within the Ministry of Interior of North Macedonia.
150 KN95 masks, 1000 surgical masks, non-contact thermometers, antiseptic dispensers and disinfectants, 100 protective glasses and 44 boxes with gloves were delivered as assistance to the National Commission, particularly the Unit for Fight against Human Trafficking, the Transit Centre 'Vinojug' near Gevgelija serving as a quarantine for all migrants and refugees, and the shelters for victims of trafficking operated by Ministry of Labour and Social Policy and NGOs. 
Ms. Magdalena Nestorovska, State Secretary and National Coordinator for Fight Against Trafficking in Human Beings and Illegal Migration expressed her gratitude for the support. "This is the first Covid-19 assistance provided to the National Commission and I am very glad that it will reach the ones who need it the most", said Ms. Nestorovska at today's meeting with representatives from GIZ and MARRI.
In Serbia, protective equipment, sanitary products and food items in response to COVID-19 were delivered to the Center for Protection of Trafficking Victims (CPTV) on 23 April 2020. The Centre, which is one of the main partner institutions of the PaCT project, is responsible for providing overall support to victims of trafficking and is managing the shelter for protection of victims. On behalf of CPTV, the Director Ms. Aleksandra Ljubojevic expressed her gratitude for the support and especially for the food packages for the victims of human trafficking.
A day before, GIZ PaCT team in Kosovo* delivered protective equipment and sanitary products to the staff members of the Department on Citizenship, Asylum and Migration at the Ministry of Internal Affairs, in addition to disinfectants to 185 asylum seekers/migrants placed in the Centers for Migrants and Asylum Seekers. The support was highly appreciated by the Director of the Departments for Asylum and Citizenship at the Ministry of Internal Affairs of Kosovo*, Mr. Valon Krasniqi.
Similar assistance from the PaCT project resources is planned and in final phase of realization for the THB Coordinators' Offices in Albania and Montenegro while Bosnia and Herzegovina has been informed about the opportunity.
The Regional Project on Preventing and Combating Trafficking in Human Beings in the Western Balkans (PaCT) commissioned by the Federal Ministry for Economic Cooperation and Development (BMZ) works on preventing trafficking in human beings and supporting victims of trafficking in the Western Balkans region. The project's main partner is the Migration, Asylum, Refugees Regional Initiative (MARRI).
*This designation is without prejudice to positions on status, and is in line with UNSCR 1244/1999 and the ICJ Opinion on the Kosovo declaration of independence
6 May 2020 – Assistance in response of COVID-19 through PaCT Project