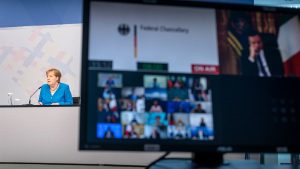 Berlin – The online Summit of Western Balkan Prime Ministers and the EU leaders, hosted by German Chancellor Angela Merkel took place on 5 July 2021, with the participants assessing the results of regional cooperation and defining the future steps in securing the democracy, prosperity and stability of the region and it future integration in Europe.
Reflecting on the topic of migration, the participants of the meeting agreed that further joint response is needed but acknowledged MARRI's efforts on the subject.  The Chair's Conclusion read as follows:
41  The participants recognised the constantly changing challenges of migration within the Western Balkan region, whilst acknowledging the opportunities for economic development and societal exchange presented by migration. Working together to prevent pressure situations or to quickly mount an early, appropriate and targeted response continues to be of central importance. Also key are fair, efficient and practicable asylum and migration systems. At the same time, we need to uphold the fundamental rights of migrants and people who have applied for international protection.
42. Participants commended the activities of the Migration, Asylum, Refugees Regional Initiative (MARRI) as a platform for discussing and developing migration policies and strategies. 
The Berlin Process is an initiative that aims at improving of regional cooperation in the Western Balkans and aiding the integration of the region into the EU. It was launched in 2014, by the German Chancellor Angela Merkel and in addition to the annual meetings of the highest governmental officials, the Berlin Process encompasses the meetings of the representatives of regional civil society organisations (Civil Society Forum of the Western Balkan Summit Series), youth organisations (Youth Forum) and business associations (Business Forum).
Berlin Process 2021, Chair's Conclusion
5 July 2021 – Berlin Process Summit: Participants commended the activities of MARRI