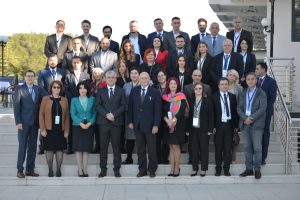 Ohrid – Effective return, readmission and reintegration policies, in full respect of international law, were the main topic of discussion at the Regional Conference on Readmission, held on 27 – 29 October 2021 in Ohrid, Republic of North Macedonia. The Conference was co-organised by MARRI, Hilfswerk International and the partner organization Association for Help and Development HAJDE from Bosnia and Herzegovina, as a three-day event in a hybrid format.
On behalf of the MARRI Presidency-in-Office by North Macedonia, the Conference was opened by the State Secretary of the Ministry of Interior of the Republic of North Macedonia, M-r Magdalena Nestorovska, followed by the addresses of the Ambassador of the Republic of Austria in Skopje, His Excellency Dr. Georg Woutsas, the Regional Director for Balkans of Hilfswerk International, Ms. Suzana Jasarevic and the Director of the MARRI Regional Center, Mr. Sasko Kocev. All welcoming remarks highlighted the importance of the regional cooperation, supported by the international partners.
"The need for joint cooperation in the field of returns and readmission is recognized by all relevant foreign partners, which, of course, is to be welcomed. Further support is needed to initiate negotiations and sign readmission agreements with countries of origin, but also adequate support in their implementation in the pre-return phase and in the implementation of the returns themselves," said the Secretary of State M-r Nestorovska in her address.
The Regional Director for Balkans of Hilfswerk International, Ms. Suzana Jasarevic pointed out that "Readmission and return are at this moment probably two key issues that raise interest but also the concern of all participating countries and security representatives. It is also a challenging process that assumes strong regional cooperation that is yet to be built," adding that "We particularly appreciate the support of the  Joint Coordination Platform (JCP) and BMI in following and supporting the development of regional dialogue and regional capacities to initiate the development of more robust return and readmission policies."
The Director of the MARRI Regional Center, Mr. Sasko Kocev, reminded that around 500,000 irregular migrants in Europe have been ordered to return to their home countries, which makes the issue of readmission more urgent than ever.
In the course of eight thematic sessions, relevant readmission stakeholders discussed the state of play in the region and beyond, exchanged experiences and good practices with regard to the legal basis for readmission and its practical implementation as well as contemplated about the ways of increasing the dialog and cooperation with the relevant authorities from the countries of origin, especially from Middle East, Central Asia and North Africa.
The Conference was the second in a series of awareness raising events under the auspices of the project "Reducing irregular migration to the EU by strengthening the capacities of migration-related structures in the Western Balkans", co-funded by the Asylum, Migration and Integration Fund (AMIF) and the Federal Ministry of Interior of Austria.
27 – 29 October 2021 – Regional Conference on Readmission in Ohrid, North Macedonia