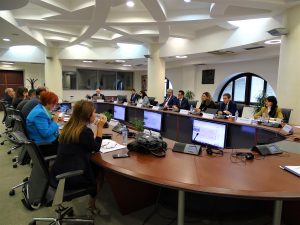 Skopje – The MARRI Presidency-in-Office by North Macedonia organized the Extraordinary Committee Meeting as a follow up on the Committee's conclusions from 28 June 2022 which called for a continued dialogue on several strategic matters relevant for the further development of the Initiative. Specifically, the meeting focused on the remaining open issues of the MARRI Legal Framework Reform, and the election of the new Regional Centre Director.
In a spirit of regional cooperation and constructiveness, the Committee assessed the prospects on both Agenda topics and agreed on the best way forward.
The Extraordinary Committee Meeting took place on 4 October 2022 at the Ministry of Foreign Affairs of the Republic of North Macedonia.
4 October 2022 – MARRI Extraordinary Committee Meeting in Skopje