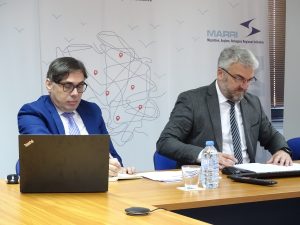 The MARRI Permanent Working Group on Migration Statistics (PWG MS) held its third session to review the group's work progress, to update on the current state of play on data exchange related to the WB-MIDEX platform, and to define the framework and timeline of the activities for 2022/2023.
Jordan Simonov, MARRI RC Migration Data and Policy Analyst presented the Quarterly Report of activities with focus on the development and operationalization of WB-MIDEX 2.0.  As explained, the new version of the platform had five modules and the intention of the RC was to further improve the application with additional ones. The results of the survey on the Participants' administrations' satisfaction with the WB-MIDEX platform were also presented and discussed.
MARRI Participants' Delegation provided brief updates on the state of play of migration statistics data exchange related to the WB-MIDEX platform. The presented challenges during the first reporting period in their respective context, raised the awareness about the existing issues on the region level.
In the concluding remarks, MARRI RC Director and Chairman of the PWG MS Sashko Kocev commended the commitment and efforts of the group. He stressed that although the first data sets have been exchanged, further actions were required on a Participant level to ensure a common approach and harmonization among the Participants. Director Kocev thanked the members of the PWG MS for the strong support in building the WB-MIDEX 2.0 platform and urged all MARRI Participants to start and regularly submit data to the RC.
The MARRI Permanent Working Group on Migration Statistics is composed of migration data experts from MARRI Participants' Statistical Agencies and Ministries of Interior/Security, established to implement the tasks assigned to it by MARRI Regional Forum of Ministers, regarding statistical methodologies, formats, quality, quantity and periodicity for collecting, processing and disseminating of relevant migration data through WB-MIDEX, as well as to guide MARRI's work related to migration statistics. The Regional Platform for Non-Personal Migration Data Exchange (WB – MIDEX) enables the exchange of statistics among the MARRI Participants in pre-defined templates in line with EU standards, and when populated, official regular statistics on migration from the Western Balkans will be available publicly. MARRI hosts and administers WB-MIDEX, and will publish data as reported by authorities when they are sent to us in the prescribed quantity and quality.
21 October 2022 – Meeting of the MARRI Permanent Working Group on Migration Statistics – Online