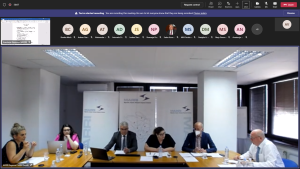 Online – MARRI Committee Members, Coordinators, Participants Representatives and MARRI RC staff attended the MARRI Regional Committee Meeting organised under the Presidency-in-Office by North Macedonia, to discuss the past engagements and way forward in obtaining sustainable development and fortified regional cooperation within MARRI.
Following the presentation of the MARRI RC Annual Report for period June 2021-June 2022, Financial Report for 2021 and a number of initiatives undertaken by MARRI RC Director Sashko Kocev, the Committee expressed appreciation for the work carried out so far and encouraged the further efforts of the MARRI Regional Centre. It also emphasized the importance of continued dialogue regarding several strategic points, agreed on the framework of the concrete actions to be taken, and recommended them for adoption to MARRI Regional Forum of Ministers of Interior/Security.
Concluding the session, the Committee once again recognised that strong regional cooperation was the key to unlock opportunities and secure further financial assistance for realising the regional priorities in the area of migration. It thanked international partners and donors for the trustful and close cooperation in the past year and kindly requested continuation of their support.
28 June 2022 – MARRI Committee Meeting