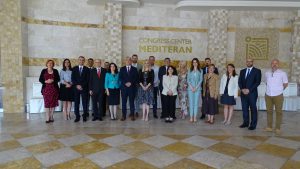 Budva – The 6th PaCT Steering Group Meeting (SGM) was organised as a part of series of events implemented jointly by MARRI, Deutsche Gesellschaft für Internationale Zusammenarbeit (GIZ) and International Centre for Migration Policy Development (ICMPD). The aim of the meeting was to discuss the project's progress of all activity packages, specifically the Mobile Identification Teams, Referral Mechanism (NRM), Capacity Development of Identification, the Awareness Raising Campaigns as well as the mental health and psycho-social support (MHPSS) measures in the reception centres and shelters for victims of trafficking in human beings.
Following the opening remarks delivered by MARRI RC Director Sashko Kocev and GIZ Team Leader Michael Samec, MARRI Participants' Coordinators for Trafficking in Human Beings were presented in details the actions undertaken in the above-mentioned activity packages i.e. Mobile Identification Teams (MITs), Referral Mechanisms (NRMs),  Capacity Development (CD) for Identification, Awareness Raising and Mental Health and Psychosocial Support (MHPSS) in Reception Centres and Shelters. The discussions regarding the presented measures were enriched with updates about the latest developments in the fight against human trafficking and the best practices in the region.
The Anti-trafficking Coordinators took positive note of the project's accomplishments and encouraged the further efforts. They also recognised that higher level of regional cooperation is crucial for effective prevention and combatting of the crime.
Besides the MARRI Participants' Coordinators for Trafficking in Human Beings, the meeting was attended by representatives of GIZ project team and MARRI RC team.
The other two events which succeeded the 6th Steering Group Meeting were the Meeting of the Network of Anti-Trafficking Coordinators of South-East Europe (NATC-SEE) and the Regional Workshop ''Developing Approaches for Enhancing the Functionality of the Referral Mechanisms (NRMs) in the MARRI Participants'', in leading organisation by ICMPD.
1 June 2022 – 6th Steering Group Meeting of the PaCT Project