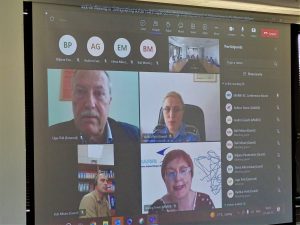 The project "Strengthening Border Police Capacities through Empowerment of Policewomen in the Western Balkans" is funded by Central European Initiative – CEI and implemented by MARRI to support the governments in the Western Balkans in strengthening the institutional capacities of the border authorities and specifically, in empowering the policewomen in border structures. Apart from the representatives of CEI and MARRI RC, the event was attended by MARRI Coordinators and the Gender Focal Points within Ministries of Interior/Security of MARRI Participants as well as a representative of Italian Embassy in Skopje and the project's excerpt Ms. Diana Golubova.
The CEI -MARRI project is implemented in 6 CEI Member States plus Kosovo* (total 7) and it is composed of 2 main activities: 1) Research on the state of play of women in Border Police authorities in MARRI Participants and comparative analysis with the EU Member States – exemplified by Italy, and 2) A regional conference where research results and recommendations will be presented to relevant domestic, regional and international stakeholders, with the aim to develop joint solutions and create synergies for mitigating gender inequality in border police structures.
The project is built on the fact that only inclusive and diverse institutions can successfully manage mixed-migration flows and address the gender-specific needs of different groups. Greater participation and capacitation of women in Border Police increases the ability of these structures to detect and prevent exploitation and abuse of vulnerable categories, as well as other forms of cross-border crimes. The project also, affirms MARRI's commitment to implement the provisions of the recently adopted strategic document GENDER MANIFESTUM which focuses on raising awareness and expanding knowledge on gender mainstreaming within MARRI RC but also, on supporting the capacity building of the MARRI administrations on gender mainstreaming.
22 June 2023 – Kick-off Meeting of the "Strengthening Border Police Capacities through Empowerment of Policewomen in the Western Balkans" project