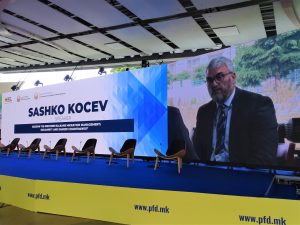 The Prespa Forum Dialogue 2023 titled "Widened European family by 2030: mission (im)possible?" held on 15-16 June in Struga, gathered high-level regional and international decision-makers and officials, diplomats, prominent personalities of the academic and business community, civil society, and youth organizations' representatives who used the excellent opportunity to share analyses, thoughts and ideas on a wide range of regional and international topics. The Forum's Agenda included discussions on the pressing regional and European political-security issues, the Western Balkans integration processes to the EU, the perspectives of strengthening regional cooperation and good-neighborly relations, the fight against corruption, etc.
During the session on EU-Western Balkans Migration Management: Solidarity and Shared Commitments, MARRI RC Director Sashko Kocev spoke about the importance of the regional cooperation and collaboration with international partners for further development of the region, arguing that none of the Western Balkans can respond to the migration challenges alone. He further highlighted the urgency for making a decisive step forward in the operationalisation of the commitments given by the political leaders in the region and effecting of the declarations into concrete actions.
Key-note speaker of the session was the Minister of Interior of North Macedonia Oliver Spasovski while the other interlocuters were Peter Szijjártó, Ministry of Foreign Affairs of Hungary; Amy E. Pope, IOM Director General; Zoran Miljanic, Minister without Portfolio, Montenegro; Nenad Nesic, Minister of Security of Bosnia and Herzegovina; Johannes Eigner, SE for the Western Balkans, Austria; Pawel Busiakiewicz, Head of Unit, International Affairs Unit, DG Home; and Selvije Mustafi, President Romano Avazi – Youth representative. The session was moderated by Hugo Brady, Senior Strategic Advisor at ICMPD.
In the course of the event, a Memorandum of Understanding on mutual cooperation between MARRI and the Regional Anti-Corruption Initiative – RAI was signed by Oliver Spasovski, Minister of Interior of the Republic of North Macedonia on behalf of MARRI Presidency in Office; Sashko Kocev, MARRI RC Director; Laura Stefan, Chairperson of the RAI, and Desislava Gotskova, Head of RAI Secretariat. In the document, both organisations committed to build strong partnership that will generate synergies and will enhance the sharing of knowledge and expertise in preventing and combating corruption and human trafficking.
Also, on the margins of the Prespa Forum Dialogue, the leaders of the regional organisations Western Balkans Fund – WBF, Regional Youth Cooperation Office – RYCO, Regional Anti-Corruption Initiative – RAI, Regional Cooperation Council – RCC, Center of Excellence in Finance (CEF) and Regional School of Public Administration – ReSPA, convened to exchange views on the recent regional developments of mutual interest.
15-16 June 2023 – Prespa Forum Dialogue in Struga, North Macedonia