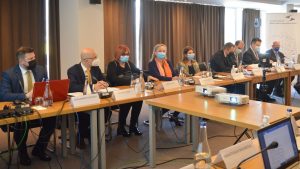 Dojran –  The Delegates of the Legal Framework Reform (LFR) Working Group (WG) met upon invitation by MARRI RC Director to work on further optimisation of the MARRI's three main documents, i.e. MARRI Statute, MARRI RC General Rules and MARRI RC Financial Rules and Regulations.
Following the RC Director's concise historical abstract on the LFR and all steps taken since its start through the Podgorica Declaration of the MARRI Regional Forum 2016, the WG adjusted the texts of the documents in accordance to the suggestions made the legal experts, and agreed to continue its work until their finalisation. The WG also consensually agreed on the road map until the next Committee meeting.
This meeting was organised under the MARRI Presidency-in-Office by Republic of North Macedonia with kind support of German International Cooperation (GIZ).
22-24 March 2022 – Meeting of MARRI Legal Framework Reform Working Group in Dojran, North Macedonia