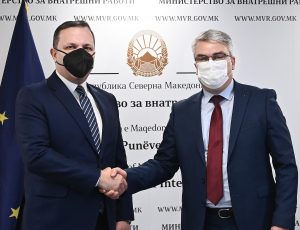 Skopje – MARRI RC Director Sashko Kocev met the Minister of Interior of North Macedonia Oliver Spasovski to discuss the latest developments in MARRI with regard to the priorities of the Initiative under the Presidency-in-Office by North Macedonia.
The interlocuters confirmed the long-term successful cooperation between the Ministry of Interior and the MARRI Regional Centre in Skopje, and Director Kocev expressed gratitude to the Minister for the support provided so far. Further, Director Kocev presented the ongoing activities of the Regional Centre and briefed about the achievements of MARRI during the current Presidency-in-Office.
Minister Spasovski underlined the importance of MARRI in the region and recogised MARRI Regional Centre as a real contact point for the Western Balkans in the areas of MARRI's mandate. The Minister assured that the support provided by the Ministry of Interior to MARRI will continue in the future.
As part of the delegations, the meeting was also attended by the State Advisor at the Ministry of Interior of North Macedonia, Perica Krstevski and MARRI Participant Representative, Atanas Minov.
14 February 2022 – Meeting with the Minister of Interior of North Macedonia Oliver Spasovski