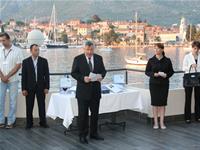 MARRI Regional Committee Meeting and Ministerial Forum organized by the Croatian MARRI Presidency-in-Office were held on 09 – 10 June 2014 in Cavtat, Croatia.
The Committee Meeting took place on 09 June 2014. It gathered MARRI Committee Members with objective to discuss current key topics for the MARRI and resulted with Approval of MARRI Strategy 2014 – 2016, Approval of the procedure for election of the new MARRI RC Director, Finalization of the "Cavtat Declaration" as well as Introduction of the Priorities of the forthcoming Macedonian MARRI Presidency-in-Office and presentation of the 2013 Audit report and current financial situation.
The first day working day ended with the Promotion ceremony of the Monograph "10 Years of MARRI".
MARRI Regional Ministerial Forum took place on 10 June 2014.  High level delegations of the MARRI Member States – Albania, Bosnia and Herzegovina, Croatia, Macedonia, Montenegro and Serbia leaded by respective Deputy Ministers or Assistant Ministers of Interior/Security participated on the Forum in order to discuss and adopt documents and decisions approved on the Committee Meeting.
Representatives of Swiss Confederation and International Organizations/Agencies – UNHCR, IOM, OSCE, RCC, DCAF and RACVIAC took part in tour de table discussion and offered further support and cooperation to MARRI.
MARRI Regional Ministerial Forum ended with the Adoption of "Cavtat Declaration" followed by handing over the MARRI Presidency-in-Office from Croatia to Macedonia and presentation of the Priorities of the Macedonian MARRI Presidency-in-Office for the period 2014 – 2015.
MARRI Regional Committee Meeting and Regional Forum held in Cavtat, Croatia