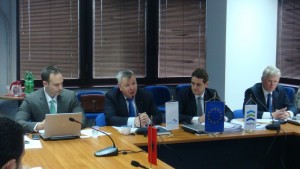 15 May 2-14, Skopje, Macedonia – FRONTEX in cooperation with the MARRI Regional Centre organized the First preparatory meeting of Frontex Flight Tracking Project, which took place on 15 May 2014 in the premises of the MARRI RC in Skopje, Macedonia.
The objective of the First preparatory meeting was to present the concept of the Frontex Flight Tracking Project – a new and innovative operational model, based on utilization of the latest smart phone technologies available, operating as a real time alerting system aimed at alerting in advance participating EU airports about flights that should be subject to gate checks at arrival.
Delegations of Border Police Services from Tirana, Skopje and Belgrade International Airports leaded by their Commanders, as well as delegations of Frontex and MARRI RC participated at the meeting.
First preparatory meeting of FRONTEX Flight Tracking Project held in Skopje