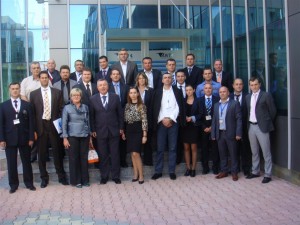 26-27 September 2013, Tirana, Albania – The First Annual Meeting of the PIRWG / NC on operational level composed of Heads of the border police units on main international airports from Southeast European Countries – Albania, Bosnia and Herzegovina, Bulgaria, Croatia, Macedonia, Moldova, Montenegro, Romania and Serbia took place on 26 – 27 September 2013 in Tirana, Republic of Albania.
The meeting was held in the framework of the Project "Support of cooperation among border police on airports in Southeast Europe – BORDAIRPOL" and it was organized by the MARRI Regional Centre in co-operation with the Ministry of Interior of Republic of Albania.
The objective of the annual meeting was to create possibility for the Members of the PIRWG / NC to discuss various topics of mutual interest, exchange information about the latest developments in the field of air borders policing, risk analysis reports, good practices, identify gaps, discuss possible solutions and maintain quality of cooperation.
Representatives from the Partner organizations – FRONTEX, Swiss Federal Office for Migration, Royal Marechaussee Schiphol Airport – Netherlands and PCC SEE participated on the meeting as well.
The Project is funded by the Swiss Confederation with the co-funding provided by MARRI and SEPCA
BORDAIRPOL Project – First Annual Meeting in Tirana