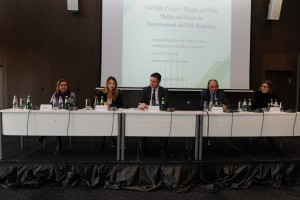 Following the priorities of the MARRI Presidency-in-Office and the Annual Program of activities, MARRI Regional Center with support of Catholic Relief Services (CRS) organized Regional workshop "Irregular migration and THB – International standards for protection of migrants at risk of trafficking in human beings with particular focus on women and children along the migration route" in Belgrade, Republic of Serbia. The workshop was a part of "SAFERR Women and Girls (Shelter and Access to Empowerment and Risk Reduction" Project funded by UK Department for International Development (DFID). The event that took place on 27-28 February 2017 gathered 80 participants from the public and civil sector.
The participants were welcomed by the Chair of Serbia Presidency-in-Office Pavle Jankovic, Police General Milenko Bozovic, MARRI RC Director Tamara Mugosa, MARRI Committee member Kristina Milosavljevic and SAFERR Programme Coordinator for CRS, Ms. Karen Janes Ungar. Representatives from public and civil sectors as well as international organizations from the MARRI region, Bulgaria and Greece took active role in assessing the current anti-trafficking policies, practice and standards in the process of identification, referral and protection of potential victims of trafficking among migrants transiting through the Western Balkan region on the route to the EU.
Prior to the workshop, the National Coordinators for anti-trafficking from Albania, BiH, Kosovo*, Macedonia, Montenegro and Serbia, with participation of representatives from Bulgaria and Greece had annual meeting in MARRI network format.
MARRI Coordinators for anti-trafficking Network has been established in 2011 in order to analyze current state of play in the area of combating trafficking in human beings in the region, boost common activities related to EU accession negotiations (chapter 24) and to agree on regional activities. The Coordinators adopted conclusions on common activities for the next year.
The outputs of both events will serve as a platform for further in depth research aimed at enhancing present legal framework and practices in line with UN and EU legislation in the area of anti/trafficking, as well as valuable inputs for MARRI Strategy 2017-2020.
*This designation is without prejudice to positions on status, and is in line with UNSC 1244 and the ICJ Opinion on the Kosovo declaration of independence
Regional workshop on trafficking in human beings in Belgrade, Serbia