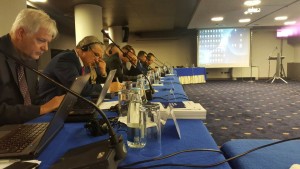 MARRI RC organized the Fourth Joint Training within the Project "Support of the sustainable development of cooperation among border police in Southeast Europe BORDAIRPOL II", which took place on 30th March 2017, in Sarajevo, Bosnia and Herzegovina.
This training has been designed to assist authorities in implementing measures required to accede to Schengen and strengthen its capacities in police cooperation. The objective was to transfer EU expertise, experience and best practices in the fields of air and land border policing particularly those needed for fulfilment of the compulsory standards.
Mijo Kresic, Deputy Minister at the Ministry of Security of Bosnia and Herzegovina welcomed the participants on behalf of the host country while RC Director Tamara Mugosa addressed the workshop participants on behalf of MARRI RC.
In course of three sessions, experts from international partner organizations and Project beneficiaries that are EU Member States elaborated the basics of implementing the second generation of Schengen Information System (SIS II) & Supplementary Information Request at the National Entry (SIRENE), as well as Schengen external borders acquis.
The FRONTEX expert Milla Hristova presented the new Regulation on the European Border and Coast Guards that stipulates extended possibilities of conducting Joint Operations in third countries as well as Joint Operation Vega Children. Major of Carabinieri Daniele Maria Marcoaldi from SIRENE Bureau of Italian International Police Cooperation Department shared best practices and experiences of the Ministry of Interior in applying the system while INTERPOL expert Bozidar Popovic presented participants usage and expansions of INTERPOL tools and services on Border Crossing Points. In addition, the participants were presented with the benefits of access to Stolen Lost Travel Documents, Nominal (wanted person) Database and implementation of Advanced Passenger Information (API) and Passenger Names Records (PNR) defined by the EU Directives on border management. Borut Eržen, Senior Programme Manager at Border Management and Visa, ICMPD Vienna presented different training programs and practical e-tools in the field of border management.
Vukoman Zarkovic of the Ministry of Interior of Montenegro shared experience within the EU-funded project "Support the adoption of the Schengen acquis" where the Schengen Action Plan (SAP) has been developed.
National delegations of Bulgaria and Romania presented EU MS practices in the subject matters.
Commanders of the International Airports and Heads of the land border Sectors from Bosnia and Herzegovina, Bulgaria, Macedonia, Moldova, Montenegro, Kosovo*, Romania and Serbia contributed to the successful implementation of this project activity, in the role of participants.
*This designation is without prejudice to positions on status, and is in line with UNSC 1244 and the ICJ Opinion on the Kosovo declaration of independence
BORDAIRPOL II Fourth Joint Training in Sarajevo, Bosnia and Herzegovina