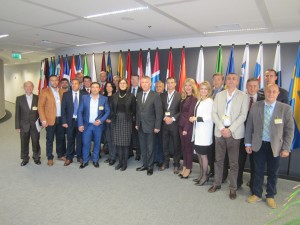 The Study visit was conducted under Project BORDAIRPOL II, financed by Swiss State Secretariat for Migration. High Officials of the respective border control authorities of Albania, Bosnia and Herzegovina, Bulgaria, Macedonia, Montenegro, Kosovo*, Moldova, Serbia and Romania, dealing with Air and Land Borders, took part in this Project activity on 3-4 October 2016.
Members of the Agency representing the International and European Cooperation Unit, the Joint Operations Unit, the IPA II Project Coordinator and Heads of Land and Air Border Sectors presented general information about FRONTEX and, in particular, its cooperation with non EU countries, including the existing challenges and opportunities of the regular operational cooperation with the BORDAIRPOL project beneficiaries.
The ongoing EC Programme titled Regional support to protection-sensitive migration management in Western Balkans and Turkey and financed by IPA II, was one of the topics discussed at the meeting and participants had also the possibility to visit the Operational room of FRONTEX Situation Center and were introduced with its scope of activities.
FRONTEX representatives reiterated that MARRI has been recognized as a platform to act at the regional level in the fields of harmonization of regional legal framework with EU policies in the area of migration. All speakers pointed out that well- coordinated, strategic and sustainable regional and international cooperation is crucial for a holistic and effective approach to migration management. Presenters appreciated cooperation with MARRI RC, established in 2009, assessing that this partnership resulted with a range of activities beneficial for both, and in particular, for the beneficiary countries in the Western Balkans.
Participants welcomed the realization of this MARRI initiative of having both land and air border representatives participating in the project activities for the first time. Valuable information and best practices were gained during this study visit to FRONTEX.
5th October, 2016- MARRI RC Director, Tamara Mugosa, met Frontex Deputy Director, Berndt Körner.
Interlocutors agreed to further enhance MARRI and FRONTEX mutual cooperation. Mr. Körner underlined that the Western Balkans is a region of core importance for all fields of FRONTEX activities. He mentioned that the new Regulation on the European Border and Coast Guard, in force since 6th October 2016, provides possibilities for streamlining information flow and risk analysis and for conducting joint operations on the territory of non-EU Countries, which should enable supporting primarily the Western Balkan countries.
MARRI and Frontex agreed to further intensify joint activities with targeted exchange of information, provision of FRONTEX expertise in the implementation of MARRI projects as well as sharing relevant material. Körner and Mugosa agreed that coherent approaches of ongoing and future programmes and projects will receive special attention.  In that context, FRONTEX also expressed its readiness to support the development of MARRI RC Strategy 2017-2020.
*This designation is without prejudice to positions on status, and is in line with UNSCR 1244/1999 and the ICJ opinion on the Kosovo declaration of independence.
BORDAIRPOL II Second Annual Meeting – Study Visit to FRONTEX in Warsaw, Poland