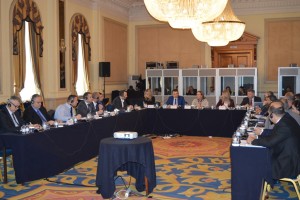 MARRI Regional Centre organized Sixth Joint Training – Visit to Bulgarian Border Police & Presentation of basic information on Advanced Passenger Information (API) and Passenger Names Records (PNR) of the Cooperation Network from Southeast Europe which took place on 22nd November 2017 in Sofia, Bulgaria.
Representatives from Border Police Directorates from Albania, Bosnia and Herzegovina, Bulgaria, Macedonia, Moldova, Montenegro, Kosovo*, Romania and Serbia participated at the training.
Bulgarian Border Police presented the state of play within its structure focusing in particular on transfer of best practices aimed at reaching the EU standards in candidates and potential candidates countries, while INTERPOL  expert presented the implementation and usage of API and PNR systems.
The participants also visited National Coordination Centre and the National Centre for Counteracting of Fake and Forged Documents.
*This designation is without prejudice to positions on status, and is in line with UNSCR 1244/1999 and the ICJ Opinion on the Kosovo declaration of independence
BORDAIRPOL II Sixth Joint Training in Sofia, Bulgaria