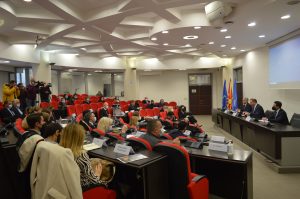 Skopje – Representatives of diplomatic corps, Macedonian governmental institutions as well as international and civil sector organisations attended the traditional presentation of annual results and plans of MARRI at the MARRI Friends Meeting/Diplomatic briefing which was organised under the Presidency-in-Office by North Macedonia in Skopje. The event also provided opportunity to MARRI partners and donors to discuss the past joint achievements and consider possibilities for future efforts in the area of migration management in the Western Balkans.
In his welcoming remarks, the Minister of Interior of the Republic of North Macedonia, Oliver Spasovski expressed conviction that MARRI has indisputable value as a platform for discussing issues and realising goals and projects of common interest, while MARRI Regional Centre remains a main focal point through which the joint fight against illegal migration continues.
"What the Initiative can do today with great relevance and for which it is really expedient to promote, is to identify regional priorities in the field of migration. This is of particular importance from the perspective of the EU integration of its Participants, as well as improvement of the regional cooperation." said Minister Spasovski.
Speaking about the priorities of the actual Presidency, Minister Spasovski highlighted the crucial importance of taking step forward in adopting the new basic documents of MARRI which regulate the functioning of both, the Initiative and the Centre. "With these documents in place, we will provide greater flexibility of the Initiative, faster response to the needs identified by the relevant institutions of the Participants, but also we will give a strong impetus for the Initiative and the Regional Centre, to grow even more and be recognized as a regional factor by all those who want to cooperate on the topic of migration" continued Minister Spasovski. In conclusion, he expressed special gratitude to the German government and German International Cooperation (GIZ) for supporting MARRI legal framework reform process and to all MARRI partners for the excellent cooperation so far.
MARRI Regional Director Sashko Kocev gave elaborate presentation of reform dynamics, projects, networks, partnerships, participants and beneficiaries of MARRI activities.
Summarizing the achievements, Director Kocev particularly highlighted two important ongoing processes – introducing MARRI RC Digital Agenda aimed at increasing the efficiency of the Centre in step with the global trends; and transforming MARRI RC in a Knowledge Hub by turning data and information from the WB-MIDEX platform to improved and increased transparent migration-related knowledge flows, which will support the MARRI Participants in their policy making.
Representatives of the international community took the opportunity to congratulate MARRI for tangible results achieved in the past year and expressed readiness to further support the institutional  strengthening of MARRI by building upon achieved results.
5 April 2022 – MARRI Friends Meeting/Diplomatic Briefing