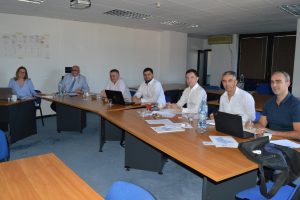 Skopje –  Financial Experts delegated by MARRI Participants met at MARRI Regional Centre to continue the revision of the newly proposed draft text of "MARRI RC Financial Rules and Regulations", developed by Integrated Expert Christoph von Harsdorf. The 2-days working session is a follow-through on the meeting held on 11-13 September in Struga, organised as a parallel discussion to the second MARRI Legal Framework Reform Working Group Meeting.
As agreed at the meeting in Struga, the suggestions made by this subgroup of experts will be incorporated into the draft text of the document, to be presented and further discussed on the next session of the Working Group, scheduled for November 2019.
The series of meetings aimed at the reform of MARRI basic documents are kindly supported by the German International Cooperation (GIZ).
30 September – 1 October 2019 – Financial Experts' Subgroup Meeting, MARRI Legal Framework Reform