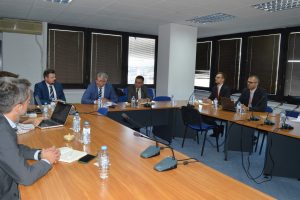 The Ministry of Interior of the Republic of North Macedonia organized the Fourth National Steering Committee Meeting of IPA II project 'Regional Support to Protection-Sensitive Migration Management in the Western Balkans and Turkey – Phase II', funded by EU.
Apart from the Macedonian authorities, the meeting was attended by representatives of FRONTEX, EASO, IOM and UNHCR as implementing partners of European Commission, and delegation of MARRI RC as beneficiary and implementing partner of the project in subject. The agenda of the meeting included presentation of the achievements in the Phase I and presentation, discussion and shaping the activities planned for Phase II.
Following the Steering Committee Meeting and in order to further discuss the role of MARRI in Phase II, representatives of FRONTEX, EASO and IOM paid official visit to MARRI Regional Centre.  During the meeting hosted by MARRI RC Director Sashko Kocev, the interlocutors exchanged perspectives regarding the regional cooperation in the area of migration, presented their priorities and explored possibilities for future joint activities in the framework of the IPA II – Phase II. All parties expressed willingness to continue the efforts towards strengthening the regional cooperation in MARRI region.
25 September 2019 – Meeting with representatives of FRONTEX, EASO and IOM