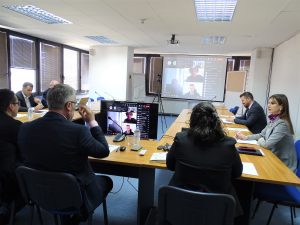 Skopje – In line with the Committee's conclusions from 21 December 2022, the MARRI Presidency-in-Office by North Macedonia organized the Extraordinary Committee Meeting to continue the discussions on remaining open issues and ongoing initiatives. The possibilities being assessed, the Committee acknowledged and commended the measures proposed by the MARRI RC Director.
The Committee thanked the German government for the continuous support through the Deutsche Gesellschaft für Internationale Zusammenarbeit (GIZ) and encouraged Secretariat's further engagement in expanding its project activities.
The meeting was held in a hybrid mode at the MARRI Regional Centre in Skopje.
7 March 2023 – MARRI Extraordinary Committee Meeting, online