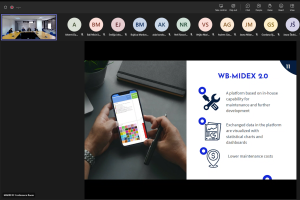 The regular session of the MARRI Permanent Working Group on Migration Statistics (PWG MS) gathered migration data experts from MARRI Participants' Statistical Agencies and Ministries of Interior/Security to review the progress in implementation of group tasks in accordance with the agreed timeline.
Following the briefing about the exchange of migration statistics through WB-MIDEX platform by Jordan Simonov, MARRI RC Migration Data and Policy Analyst, the delegations presented the state of affairs regarding the availability of data in their respective institutions, and discussed the modalities for enhanced exchange of migration statistics in the region.
MARRI RC Director and Chairman of the PWG MS Sashko Kocev commended the commitment and efforts of the group and thanked the members of the PWG MS for the strong support in building the WB-MIDEX 2.0 platform.  He encouraged all MARRI Participants' further active involvement in operationalisation of the platform.
14 March 2023 – Meeting of the MARRI Permanent Working Group on Migration Statistics, online