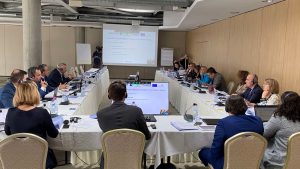 Belgrade – In order to support the further alignment of MARRI Participants with Regulation (EC) 862/2007 on Community Statistics on Migration and International Protection and facilitate the data exchange through WB-MIDEX, IOM under the auspices of the regional IPA II project "Regional Support to Protection Sensitive Migration Management in the Western Balkans and Turkey", supported the authorities in the Western Balkans region to develop Road Maps on Migration Statistics that outline the current practices, challenges, and level of alignment with EU standards in the context of migration statistics.
The Regional Meeting on Migration Statistics in the Western Balkans organised jointly by IOM and MARRI, provided a forum for discussion and exchange of experiences on the development of these Road Maps. The main focus of the meeting has been placed on the key findings and recommendations, as presented by MARRI Participant authorities. The Road Maps represent key strategic documents that outline the necessary steps and actions for further harmonization with the EU acquis on migration statistics.
Additionally, to ensure the WB – MIDEX sustainability MARRI has initiated establishment of a regional Permanent Working Group on Migration Statistics that includes migration data experts from Western Balkan statistical agencies, Ministries of Interior/Security of MARRI Participants and MARRI Regional Centre. The mandate of the Group is to implement the tasks assigned to it by MARRI Regional Forum regarding statistical methodologies, formats, quality, quantity and periodicity for collecting, processing and disseminating of relevant migration data through WB-MIDEX, as well as to guide MARRI's work related to migration statistics. During this kick-off meeting, the participants discussed the terms of reference of the Permanent Working Group on Migration Statistics and the joint timeline for exchange of migration statistics through WB-MIDEX.
The WB – MIDEX Platform is a custom-made software solution for exchanging non-personal migration data through common templates. It has been developed by IOM with a view to ensure both Participant-level alignment and regional harmonisation with Regulation (EC) 862/2007. The Platform allows secure data import and has an option for public data viewing and export in different downloadable formats. It contains custom indicators used by EU Member States to report to Eurostat at regular intervals. The Platform includes four main data topics (International Migration, International Protection, Enforcement of Immigration Legislation, and Residence Permits), as well as an optional module on Smuggling of Migrants.
The Platform has been reviewed and validated by the MARRI Participant authorities at three regional meetings on migration statistics in Belgrade (Feb. 2018), Skopje (Dec. 2018) and Tirana (Apr. 2019). The WB-MIDEX Platform was handed over to MARRI in December 2019.
23 – 24 November 2021 – Regional Meeting on Migration Statistics in the Western Balkans