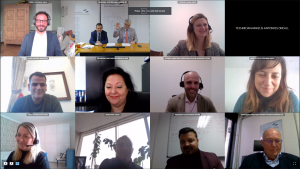 The online event was organized by European Asylum Support Office – EASO and MARRI RC to present the Training Needs Analysis Report to the representatives of the Asylum Departments, and Reception Centres for Asylum Seekers of the MARRI Participants.
The aim of the assessment was to identify training needs, and not only the training priorities, but also making an overview of the trainings conducted so far in order to avoid repetition of trainings that were conducted before. The document presents an analysis of the survey conducted in close cooperation between MARRI and EASO. It is based on the answers received from a given questionnaire and follows the methodology used by EASO in preparing national analyses for the European Union Member States. In accordance with the aforementioned methodology, the report contains the following chapters: Introduction, Areas of Support, Learning Needs and Prioritization.
The attendees of the meeting who also participated in the survey conducted in the period from July to September 2021, positively evaluated the presented the methodology used for preparation of the report, the report itself and the planned activities for 2022; and expressed great enthusiasm for implementation of the next steps.
The Training Needs Analysis, as well as the overall cooperation between EASO and MARRI, is part of the IPA project "Regional Support to Protection-Sensitive Migration Management in the Western Balkans and Turkey."
15 December 2021 – Presentation of the EASO – MARRI Training Needs Analysis Report