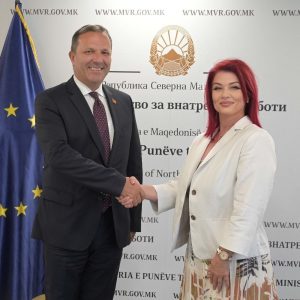 Skopje – MARRI RC Director Snezana Trajanovska, MSc had a meeting with the Minister of Interior of North Macedonia Oliver Spasovski to discuss the priorities of the Initiative and the activities of the MARRI Regional Centre under the Presidency-in-Office by the Republic of Serbia.
On this first official briefing between Director Trajanovska and Minister Spasovski in her capacity of MARRI RC Director, both sides confirmed the long-time successful cooperation between the Regional Centre and the Ministry. Director Trajnovska used the opportunity to present her vision and goals for further advancement of the Initiative, highlighting that the role, the engagement and the constructiveness of the MARRI administrations are crucial in maintaining the good practices and overcoming the existing challenges. She thanked Minister Spasovski for the active involvement and continuous support of the Ministry of Interior to the MARRI Regional Centre.
Minister Spasovski congratulated Director Trajanovska and wished her a successful term in office. He stressed that North Macedonia remains dedicated to the mission of MARRI, and not only in reaching its goals but also in the efforts for better positioning on the international scene. Saying that migration and the related topics tend to remain challenging issues in the Western Balkans region, Minister Spasovski extended the commitment of the Ministry of Interior to support the MARRI Regional Centre in the future.
As part of the delegation of the Ministry of Interior of North Macedonia, the meeting was attended by the State Advisor Natalia Mukoska and the Advisor – Correspondent & MARRI Coordinator, Gjurgica Ilieva Nackova. On the behalf of MARRI RC, the meeting was attended by the MARRI Participant Representative Atanas Minov and the Communication Officer Anita Veljanova.
21 August 2023 – Meeting with the Minister of Interior of North Macedonia, Oliver Spasovski