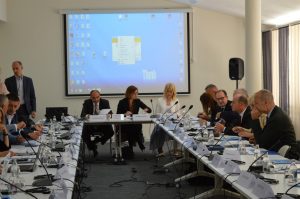 Belgrade – The training "Regional capacities and needs for interpretation services for border police" was organized for representatives of the Ministries of Interior/Security of MARRI Participants to explore the needs of first line border police officers for interpretation services and possible MARRI support in addressing related challenges at regional level.
Further development of a need-based interpretation platform for the border police in the processes of identification of irregular migrants was a key topic of discussion.
The event was also attended by representatives from Ministries of Interior of Moldova and Romania as project participants, as well as MARRI Partners representatives: Head of PCC SEE Secretariat Thomas Herko, IOM Regional Project Manager Donatella Bradic, Frontex IPA II Project/Return Specialist Vesna Plesa, Interpol Deployment Officer Bozidar Popovic, National Representative of ICMPD to the Republic of Macedonia Melita Gruevska Graham, European Migration Liaison Officer at the Delegation of the European Union to the Republic of Serbia Andreas Nagy, UNHCR Field Agent Nebojsa Covic, NCA International Liaison Officer at UK National Crime Agency Bill Woods.
The Head of the Border Police Directorate of the Republic of Serbia General Milenko Bozovic, opened the event stressing the importance and benefits of BORDAIRPOL I & II projects in strengthening of the border police regional cooperation.  MARRI RC Director Tamara Mugosa presented MARRI Strategy 2018-2020 strategic features related to border management while BORDAIRPOL II Project Manager Selma Mehovic briefed on project outputs and results of MARRI reform.
The event had been supported by UK Government with two experts: UK Home Office/Asylum Operations Deputy Chief Caseworker Adrian Trigg and Senior Caseworker Zoe Edwards, that shared the best practices for identification and registration of migrants in the UK. This UK Government support to MARRI has been result of permanent dialogue and cooperation among Foreign Ministries of Western Balkans, regional organizations and UK as the next host of Berlin Process Summit, with support of GIZ.
After presentation of the actual capacities and current practices in terms of interpretation at the border crossing points of MARRI Participants, the participants identified specific situations they face in practice and common challenges that can be addressed at regional level with MARRI support to border authorities, regarding access to quality interpretation for rare languages indicated by participants of the meeting.
IOM/MARRI consultant Ivan Kochovski and Project Assistant Milica Trpevska presented the features of the MARRI interpretation platform, which is in the phase of development. Presently this service is easily accessible for asylum procedures, but MARRI and IOM invest efforts to develop adequate interpretation services to the border police in view of resolving some of the challenges related to interpretation at border crossing points.
First developed under the auspices of a UK Government-funded project, MARRI rare language interpretation platform is currently being upgraded and further developed with support of IOM, as the EC implementing partner within EU-funded IPA II project 'Regional Support to Protection-Sensitive Migration Management in the Western Balkans and Turkey'.
The meeting represents important step towards development of efficient and tailor-made solution for the interpretation needs of MARRI Participants' border authorities.
The workshop also offered the possibility to reassess cooperation of MARRI and international partners and consider the possibilities for further development of cooperation.
17 May 2018, BORDAIRPOL II 7th Joint Training