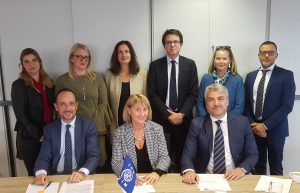 Vienna – The evolving migration dynamics in Western Balkans, the need for stronger and coordinated response to the migration in the region as well as the future joint activities, were some of the topics of IOM-MARRI Regional Strategic Exchange for Western Balkans, held on 15 October 2018 in Vienna, Austria.
Organized by IOM Regional Office in Vienna, the meeting was attended by MARRI Regional Centre Director Sashko Kocev on behalf of MARRI and IOM delegation led by IOM Regional Director Argentina Szabados, consisted of IOM Sub-Regional Coordinator Peter Van der Auweraert and IOM's Senior Management Teams in Vienna and Western Balkans. IOM and MARRI have worked closely together since MARRI's inception in 2004, and particularly since 2008 when they signed a Memorandum of Understanding.
"The new reality, which began three years ago during the mass movements from Syria, has produced the need for a stronger sub-regional response", stressed Regional Director Argentina Szabados. "It is increasingly clear that the complex situation requires a coordinated approach from the Western Balkan governments and from the EU. Today's regional strategic exchange underscores IOM's commitment to assisting all parties  further enhance the coordinated management of the current migratory flows, and to ensure we are doing everything we can for the vulnerable migrants, today, tomorrow and in the future."
The exchange also focused on the ever-important issue of EU integration, as well as the new Global Compact for Migration (GCM), due to be ratified in December. Planning for future migration crises was also emphasized, particularly the importance of adopting a more integrated approach.
IOM Sub-Regional Coordinator Peter Van der Auweraert stressed that at the moment, people are moving within the Western Balkans and the governments are doing a good job to assist and manage, but it is time to consider how a sub-regional response on labour migration management could be put into place to better match realities on the ground.
The exchange paved the way for similar strategic dialogues on migration to take place throughout the Western Balkans. As result of the exchange, IOM and MARRI plan to co-host a high-level Ministerial Conference in the region which will look at the issue of migrants returning from the Western Balkans to their countries of origin, harmonizing the planning for, and response to, humanitarian crises on a policy level, and any other issues raised by the attending governments.

"Strengthening the already long-standing partnership with IOM, as well as working towards fulfilling the objectives of the Global Compact for Migration, are at the heart of our current and planned response;" said Director Kocev. "Together we will build future relationships meeting the objectives of the Global Compact."
15 October 2018 – IOM-MARRI Regional Strategic Exchange for Western Balkans Focuses on Coordinated Migration Response