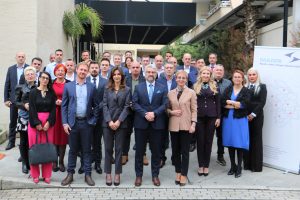 The challenges of effectively countering the smuggling of migrants and trafficking in human beings in the Western Balkans as well as the available solutions were the main topics of discussion at the Regional Practitioners Dialogue on Smuggling of Migrants by Air, Sea/Water, Land and Trafficking in Human Beings in the Western Balkans which took place on 30 – 31 March 2023 in Durres, Albania.
The event, which is co-organised by MARRI and Deutsche Gesellschaft für Internationale Zusammenarbeit (GIZ) in the framework of the Regional Project on Preventing and Combatting Trafficking in Human Beings in the Western Balkans (PaCT), brought together practitioners from air, land and water borders from the Western Balkans, as well as representatives from relevant EU and International organisations and academia to assess the current state of play along the Western Balkans Route; to examine the connection between smuggling of migrants and trafficking in human beings; to reflect on the gender – related causes; and exchange information about the methods and the latest digital tools used by the smugglers and traffickers, together with the possibilities for their detection.
"This is a critical issue that affects our region and beyond, as it poses a significant threat to the safety, security, and dignity of human beings. I firmly believe we would all agree that smuggling of migrants and trafficking in human beings, as criminal acts and human rights violations, demand our urgent attention and action." said MARRI Regional Centre Director Sashko Kocev in his introductory address. He further pointed out that "in the era of rapid change and uncertainty, only by working together in strong partnerships we can find innovative solutions to these challenges and create positive change."
During the four thematic sessions, the MARRI Delegations presented the domestic legal framework for countering the smuggling of migrants along with the challenges and good practices in its implementation. The international and EU partners working in this area such as INTERPOL, Europol, Frontex, OSCE, IOM, ICMPD, GRETA, Italian Guardia Costiera and Guardia di Finanza, Austrian Home Affairs, as well as representatives from academia and CSO in Albania, shared their expertise and provided recommendations on strengthening the capacities for identification of
victims of human trafficking but also, identification of the traffickers and their further prosecution. Part of the discussions was dedicated to the gender dimension and how the gender perspective can be integrated in the activities of authorities fighting these crimes.
The joint study visit to the Port Authority, Border Police and Customs of Durres provided an opportunity for practitioners' exchange about the procedures and equipment used for the detection of false and forged documents. The Albanian border authorities demonstrated a number of past cases that brought a better understanding of the volume of failed attempts and the creativity of the offenders.
29 – 31 March 2023 – Regional Practitioners' Dialogue on Smuggling of Migrants by Air, Sea/Water, Land and Trafficking in Human Beings in the Western Balkans in Durres, Albania