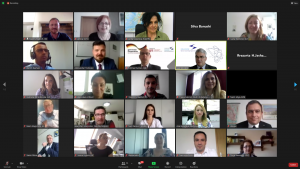 The discussions of the fourth (online) session of the PaCT Steering Group focused on developing approaches for enhancing the functionality of the National Referral Mechanisms (NRMs) as well as implementation of mental health and psycho-social support (MHPSS) measures in the reception centers and shelters for victims of trafficking in human beings.
The discussions were based on the key findings of a research and expert assessments on above-mentioned topics, presented by GIZ Project team. The Steering Group contemplated the way forward and agreed on the proposed activities.
Besides the MARRI Participants' Coordinators for trafficking in human beings, the meeting was attended by representatives of GIZ Project team and the MARRI RC team.
The Regional Project on Preventing and Combating Trafficking in Human Beings in the Western Balkans (PaCT) is commissioned by the Federal Ministry for Economic Cooperation and Development (BMZ) and implemented by Gesellschaft für Internationale Zusammenarbeit (GIZ) in cooperation with MARRI as a strategic partner.
27 May 2021 – 4th PaCT Steering Group Meeting