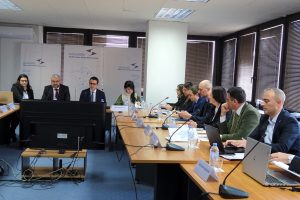 Skopje – MARRI Participants' delegations composed of Committee members, Coordinators and/or delegated representatives as well as MARRI Participants' Representatives to the Regional Centre attended the regular mid-term Committee meeting under the Presidency-in-Office by North Macedonia to take stock and reflect on the ongoing activities and Initiative's priorities for 2023.
Following the opening remarks by the Chairperson Dzenk Sejfula in which he summarized the current state of affairs in context of regional cooperation, MARRI RC Director Sashko Kocev briefed about Centre's operations and impact in the period of June-December 2022. His presentation focused on the undertaken initiatives linked to expansion of the Initiative's project portfolio and the cooperation with existing and potential partners.
The topics on the agenda about the organisational matters of highest importance were discussed with particular regard. The Committee took note of the proposed measures and agreed on the immediate actions, consenting to meet once again before the next Committee meeting in June 2023.
21 December 2022 – MARRI Committee Meeting under North Macedonia Presidency-in-Office