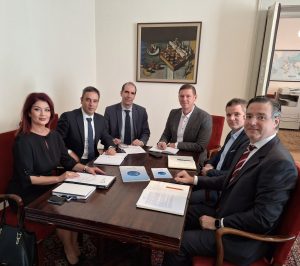 Belgrade – MARRI RC Director Snezana Trajanovska, MSc met with representatives of the Ministries of Interior and Foreign Affairs of the Republic of Serbia in capacity of Presidency-in-Office over MARRI, to discuss the strategic priorities and future activities of the Initiative.
This meetings that took place in both institutions, served as a platform for a productive exchange of ideas and a collaborative effort to address the key issues and challenges that lie ahead. The agenda encompassed a range of topics, including updates on the latest developments in the Regional Centre including internal, partner and project activities, preparation of the forthcoming MARRI Committee meeting, as well as the way forward concerning the operational and strategic priorities of the current Presidency-in-Office.
During the meeting, Director Trajanovska had the opportunity to share her perspectives, experiences, and insights on the pressing matters faced by the MARRI RC while the Presidency reciprocated with their vision and approaches. This open and constructive dialogue underlined the importance of collaboration between the MARRI Secretariat and the Presidency in addressing the needs and concerns of all constituents and stakeholders.
19 October 2023 – Meeting with Serbia Presidency-in-Office: A Discussion on Strategic Priorities and Future Activities