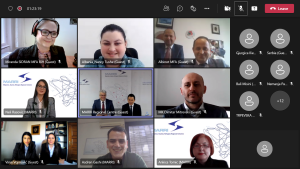 The mid-term MARRI Regional Committee meeting under the Presidency-in-Office by North Macedonia was organised in a hybrid mode at the premises of the Regional Centre in Skopje. On behalf of the Presidency, the event was chaired by the MFA Director for European Union Dzenk Sejfula, and attended by MARRI Committee members, Coordinators, MARRI Participants Representatives and MARRI RC staff.
Following the MARRI RC Director Sashko Kocev exposé on the Regional Centre's operations and impact in the period of July-December 2021, the Committee took note of the presented state of play, positively assessed the proposed Financial plan for 2022 and provided guidelines for the way forward on the activities concerning the further reform and organizational upgrading of the Initiative.
Additionally, the Committee commended the continuous support by the international partners and donors, and encouraged the Regional Centre as the Secretariat of the Forum to continue with implementation of the agreed activities and initiatives.
17 December 2021 – MARRI Committee Meeting under North Macedonia Presidency-in-Office