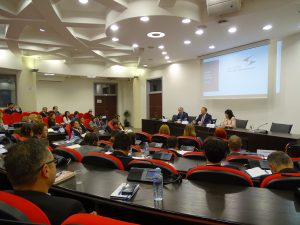 The North Macedonia Presidency-in-Office of MARRI organized the traditional presentation of annual results and future plans – MARRI Friends Meeting, at the premises of the Ministry of Foreign Affairs of the Republic of North Macedonia.  The event gathered representatives of diplomatic corps, MARRI partners and donors, representatives of governmental institutions and civil sector to discuss past achievements and consider possibilities for joint efforts in the area of migration management in the Western Balkans.
The audience was addressed by the Minister of Interior Oliver Spasovski and MARRI RC Director Sashko Kocev.
"European integration and strengthening of our own capacities, as well as the acceptance of the best practices in our daily operations, is imperative for all MARRI Participants while we are slowly but surely moving towards the European Union. All of us as MARRI Participants are at a different stage in ​​European integration, and I am especially glad that we are on this path together," said Minister Spasovski. He added that during the two-year Presidency, the Republic of North Macedonia assumed the role of an active leader and selflessly made its capacities available in order to ensure fulfillment of the established priorities, by implementing a series of activities aimed at strengthening regional cooperation and promoting the European dimension in the Western Balkans.
The Director of MARRI Regional Centre Sashko Kocev, thanked the Minister Spasovski for the overall support and expressed confidence that it will continue with undiminished intensity in the next period.
Further, Director Kocev gave elaborate presentation of the dynamics, projects, networks, partnerships, participants, and beneficiaries of MARRI activities. He also informed about the detected challenges in the region for which, he pointed out, there were already developed ideas how to overcome them. With presentation of testimonies of success through short videos and statements from long-term and new partners, Director Kocev concluded the briefing.
During the Tour de Table, MARRI Participant's Ambassadors of Montenegro and Serbia as well as representative of  the Embassy of Bosnia and Herzegovina, addressed the audience highlighting the importance of the regional cooperation and thanked the international community for their engagement in the region.  With words of encouragement, representatives of MARRI partners and donors acknowledged MARRI's efforts and expressed readiness to intensify the cooperation with MARRI. Statements in this direction provided the representatives of the German government and GIZ, UNHCR, CoE, IOM, ICMPD, CEI, Open gate -La Strada, and Legis.
12 May 2023 – MARRI Friends Meeting / Diplomatic Briefing in Skopje