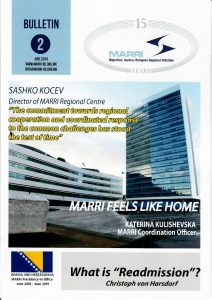 Dear MARRI partners, supporters and friends,
This year, we are proud to mark the 15th anniversary of MARRI as a catalyst for regional cooperation on issues concerning migration, asylum and refugees in the Western Balkans. Back in 2004, MARRI was established with a decision by the Stability Pact of South-Eastern Europe. It has since evolved from a donor-supported organisation to a regional initiative jointly owned by its Participants.
Looking back, I am amazed by the hard work done and the progress made during this challenging but rewarding period. In 2008, the Participants took over the full ownership and leadership of MARRI, while securing its sustainability by funding the running costs for its Secretariat – the MARRI Regional Centre.
Initially, MARRI has been established by Albania, Bosnia and Herzegovina, Croatia, (North) Macedonia, and Serbia and Montenegro. Over the years, its composition has changed with the leaving of Croatia and joining of Kosovo* as a full-fledged MARRI Participant. Nevertheless, the commitment towards regional cooperation and a coordinated response to the common challenges has stood the test of time.
*This designation is without prejudice to positions on status, and is in line with UNSCR 1244/1999 and the ICJ Opinion on the Kosovo declaration of independence
MARRI Bulletin, June 2019