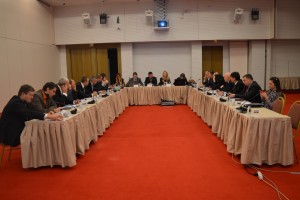 The MARRI Regional Centre in cooperation with the Interior Ministry of Montenegro  organized the Third Annual Meeting of the Permanent inter-regional working group/network for cooperation (hereinafter PIRWG/NC) on operational level composed of Heads of the border police units on main international airports from Southeast European Countries- Bosnia and Herzegovina, Bulgaria, Macedonia, Moldova, Romania, Serbia and Kosovo, which took place on 16 December in Budva, Montenegro.
The objective of the annual meetings under BORDAIRPOL Project is to make possibility for the Members of the PIRWG/NC to discuss various topics of mutual interest, exchange information about the latest developments in the field of air borders policing, risk analysis reports, good practices, identify gaps, discuss possible solutions and maintain quality of cooperation. Representatives from the Partner organization FRONTEX participated at the meeting also.
In his welcoming address Ivan Ivanisevic, General Director for International Relations and European Integration, Ministry of Interior of Montenegro stated that the key goal of Montenegrin Presidency in Office is to enhance coordination with other regional initiatives, international organizations and the EC, in order to contribute to better identification of joint regional challenges and requirements He also pointed out that Montenegro aims at developing the projects of common regional interests that would assist in reaching the standards of professional organisation of the law enforcement, integrate democratic principles in it functioning as well as establish mechanisms in further strengthening of bilateral and multilateral cooperation.
Third Annual Meeting of the Heads of Border Police held in Budva